THE SITUATION
Declines in honey bee health have put agriculture, healthy lifestyles, and worldwide food security at risk.
Learn More About the Situation

 THE SOLUTION
Implement science-based collaborative action in four priority areas.
Learn How We Help Bees

 YOU CAN HELP
Your involvement is essential in making the world a better place for you and for honey bees.
Learn How You Can Help
---
Learn more about the Bee crisis
In the fall of 2006, newspapers around the United States began to publicize a unnerving phenomenon. Honeybees were a mysteriously disappearing from beehives all around the nation. Dave Hackenburg, a outspoken beekeeper, and the first to raise a stir about the crisis, reported that bees were simply vanishing from his hives. That fall, beekeepers and commercial beekeeping enterprises around the country reported losses of 30% with some beekeepers reporting losses up to 90% of all of their colonies.
Want to do something about it? Things you can do to help bees.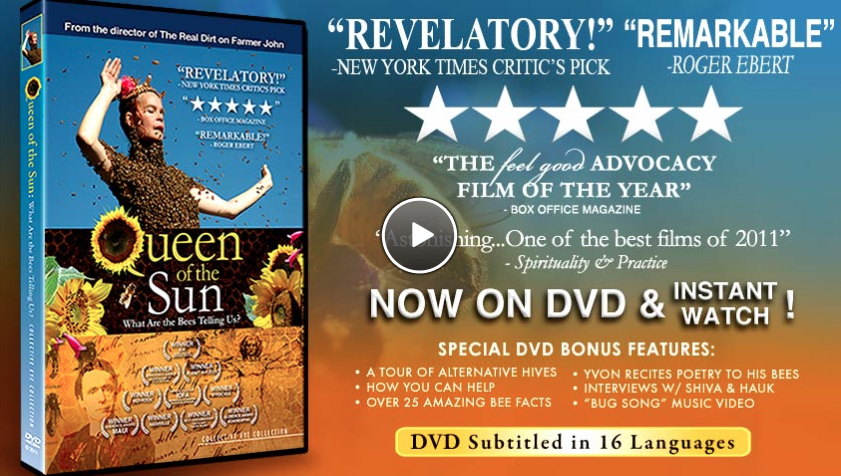 QUEEN OF THE SUN: What Are the Bees Telling Us? is a profound, alternative look at the global bee crisis from award-winning filmmaker Taggart Siegel, director of REAL DIRT ON FARMER JOHN . Taking us on a journey through the catastrophic disappearance of bees and the mysterious world of the beehive, this engaging and ultimately uplifting film weaves an unusual and dramatic story of the heartfelt struggles of beekeepers, scientists and philosophers from around the world including Michael Pollan, Gunther Hauk and Vandana Shiva. Together they reveal both the problems and the solutions in renewing a culture in balance with nature.