How the WISH Candle Works.
The Wish Candle has a secret chamber designed to hold your wish inside the copper Wish Capsule.
It is made of 100% beeswax because beeswax is timeless and magical. The WISH Candle holds your wish safely inside the Wish Capsule for as long as you choose.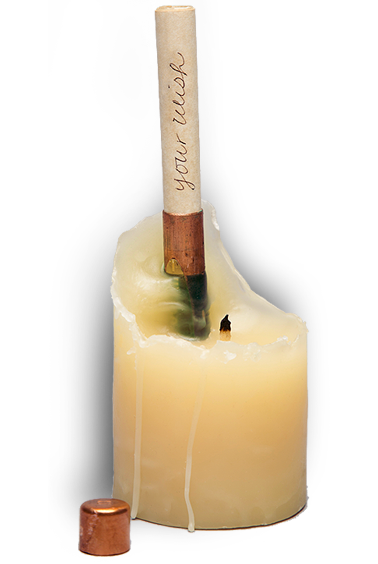 The WISH Candle is the caretaker of your wish.
Wishes are like gardens. They must be loved and cared for to grow and become a reality. When you don't pay attention to wishes they tend to die and fade away as if they never existed.
The WISH Candle engages you in a magical experience to make your wish come true.
The Magic of a Handwritten WISH
"Research tells us that handwriting, to the mind, is the same as doing."
Your handwritten words spark your imagination and give life to your wish. You MUST clearly define your heartfelt wish. Don't send the universe mixed messages. Be very specific! Write your wish in detail and read it carefully. Remember, you are the writer, producer and director of your life. What do you really want? What do you wish?
Roll your wish into a tight scroll. Place the scroll in the copper WISH Capsule and insert it into the secret chamber in the bottom of the WISH Candle.
Make Your WISH Come True
"Your handwritten words are magical. They give life to your wish."
The WISH Candle inspires you and keeps you focused and aligned with your wish.
Send a WISH to Someone Special
Turn a wedding, birthday, anniversary, graduation, family gathering, romantic get-away, a special celebration or 'just because' you want to say 'I love you' into a magical day. Create memories that come to life each time your wish is read and shared.
You can share a special day with your loved ones even when you are miles apart or you are unable to be with them on their special day.
It's never too late to say the words you wish to say. Send someone you love a WISH Candle. Choose the date and time to burn the candle.