Did you know that 100% Beeswax Candles clean the air when they burn?
Beeswax releases negative ions when it burns. Pollen, dust, dirt, pollutants, and any other junk in the air all carry a positive charge, and that is how they can be suspended in the air. The negative ions released from burning beeswax negate the positive charge of air contaminants, and the neutralized ions are sucked back into the burning candle or fall to the ground. Many air purifiers and water filters harness this effective negative ion technology.  Because beeswax candles clean the air and reduce indoor pollutants, they can effectively reduce asthma, allergies, and hay fever.
Hundreds of years ago, most candles were made of beeswax. But over the centuries, beeswax candles were gradually replaced by tallow (animal fat) candles, and then in the last century by paraffin candles, which are probably the kind you have in your home right now. It sounds innocent enough, but paraffin is made from the sludge at the bottom of barrels of crude oil, which is then treated and bleached with benzene and other chemical solvents to "clean it up" for use in candles. Paraffin candles put out soot and smoke when you burn them along with toxins and carcinogens.

WISH Candles are 100% Hand Poured Beeswax
Beware of sneaky labeling on beeswax candles:  In the U.S., the term "pure" on a label means only 51% of an ingredient (and that goes for food, too). Often, companies sell "pure" beeswax candles which contain a combination of 51% beeswax and 49% toxic paraffin. Look for the key phrase "100% Beeswax" on candles.
100% beeswax candles come with an unexpectedly large price tag for those used to buying 100 paraffin tea lights for five bucks at Ikea. No one should pay money, however, to poison their home! When you buy 100% beeswax candles, you are making a health investment.
WISH Candles use 100% Cotton Wicks
"I've heard about lead in candle wicks. Is this true?  If a candle has a metal wire in the wick, it may contain lead. Lead is banned from use, but many imported candles, especially from China, still contain lead. Burn only candles with 100% cotton wicks and avoid any with a wire center. If it has a wire center, it will put zinc and other metals into your air."
http://empoweredsustenance.com/beeswax-candles-and-allergies-an-effective-solution/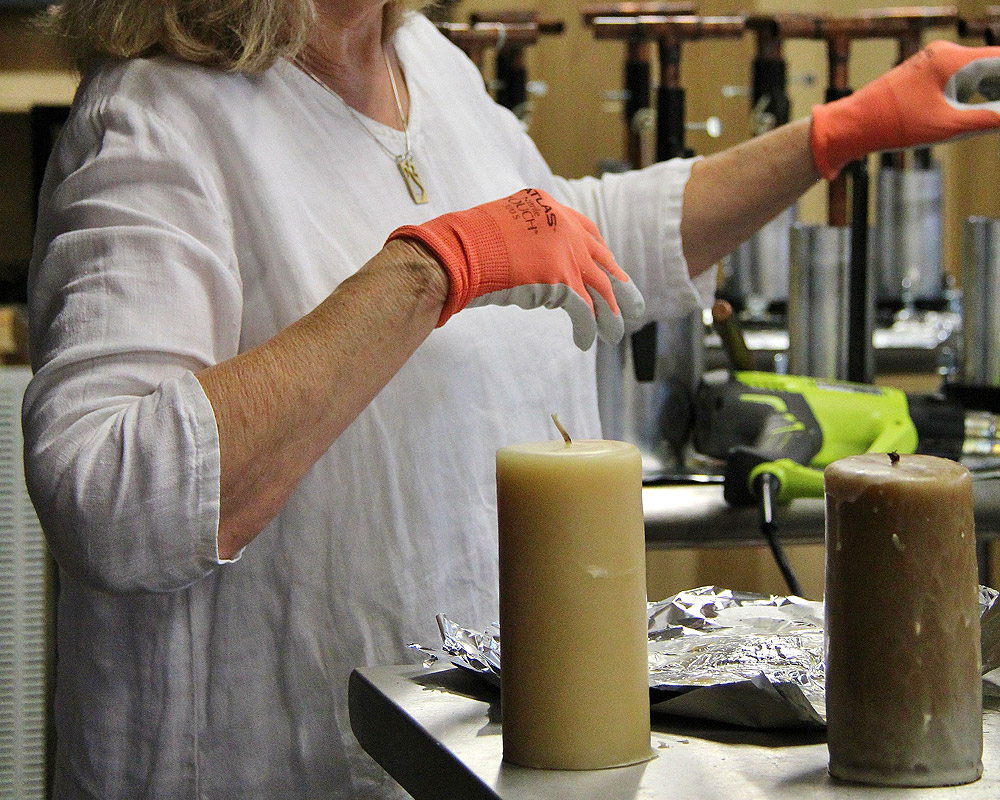 Bees, Beeswax, and Honey | Our major Life Source!
Bees have incredible methods for life and are a strong insight to understanding abundance when looked at closely.  The bees, beeswax and honey have health benefits among the wide range of uses that assist our lives.  For nearly all natural foods, materials, and medical benefits, the bees, beeswax and honey sustain all of our lives!  Check out this list of 101 uses for Beeswax and then ask, who would wish for the honey bees to disappear?
More and more creative examples of beeswax use are showing up everywhere today but it dates back to the beginning of civilization.  For example, Ancient Egyptians used the beeswax to make paint for their artists and during Roman times it was also used as a skin softener and to encourage wound healing.  More often today, scientists are studying beeswax for its potential to lower cholesterol, relieve pain, reduce inflammation, and treat digestive ailments.  It has been found that a purified constituent of beeswax may protect liver health because of the antioxidant effects.  Science has also shown how bee venom has been proven to destroy cancer cells safely without harm to healthy cells.
Do you use beeswax for other benefits?
Please share your tips.