"Handwritten words touch the heart each time they are read"
There is something special about handwritten words. They give us a sense of realness and closeness in a magical way that no form of communication in our high tech world can give us. Handwritten words connect the sender and the recipient 'heart to heart' each time they are read and re-read.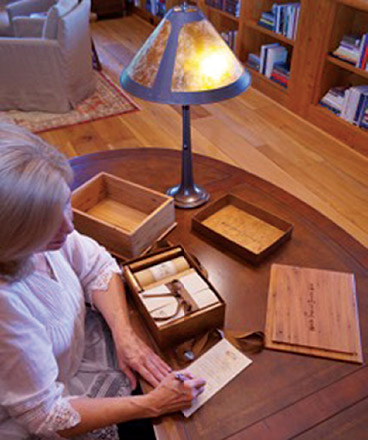 Writing a heartfelt note to someone special
Your handwritten words are the most personal gift you can give someone. Handwritten notes and letters are becoming a thing of the past. No form of communications in our high tech world can touch the heart and more than a handwritten note sealed inside the WISH Candle.
The gift of your handwritten words sealed inside the WISH Candle will turn a milestone occasion from birth to the end of life into a treasured event.
You cannot buy a gift that speaks to the heart the way your handwritten words can. A simple "I love you with all my heart and soul" comes to life each time it is read and re-read for years to come.
Writing your heartfelt wish
Research has shown that the general act of writing by hand is the same as doing to the brain. The brain receives a visual picture of your handwritten words. Research also shows the very act of writing by hand slows the mind, forces it into a more contemplative state in which precisely chosen words convey heartfelt emotions.
The act of writing your heartfelt wish makes it real. Writing connects you to a higher state of consciousness when mind slows down as you ponder on choosing the right words and forming each letter.
Writing your heartfelt wish fuels your imagination. Pictures start to form in your mind and you naturally begin to imagine your wish coming true.
"Everything you can imagine is real."
― Pablo Picasso
"If you can imagine it, you can achieve it. If you can dream it, you can become it."
–William Author Ward
"Imagination is everything. It is a preview of life's coming attractions"
–Albert Einstein
I love you
I am so grateful for every moment I shared with you. Thank you for coming into my life, giving me joy, comfort and laughter – Thank you for loving me and receiving my heartfelt love in return – Thank you for the memories of yesterday and dreams of tomorrow. I love our life together and I love you with all my heart
Please Forgive Me
I wish I could take back the words I said to you. If I could turn back the time and make things right I would. Please forgive me. I am so sorry. I hope these tickets will make things better. Prepare yourself for a night filled with lots of FUN and LOVE.
Your friendship means the world to me. Please forgive me. Can we go to a movie, eat popcorn and chocolate M & M's?? I'm buying.
Thank you for the memories of yesterday, a perfect day today and the promise of sharing the rest of my life with you. I love you with all my heart and soul. Happy Anniversary Baby.
I love you for your kind heart and forgiving nature. I love who you. I'm so grateful for the inspiration you've given me to be a better person. My heart still skips a beat when you walk through the door. I love every moment I spend with you.  
Wishing my two best friends many romantic nights, good wine, good food, laughter and fun. May this night bless you with the love of each other, good friends, a loving family and sweet memories..
I love you more than I did on our wedding day. I didn't think that was possible. You are amazing. I wish US a very Happy anniversary tonight and many more to come. 
Happy Silver Wedding Anniversary! After 25 years, you are still my favorite person. Thank you for a wonderful life. I love you forever.
I love you today, as I did from the start. I'll love you forever, with all of my heart. I wish you Happy Anniversary right from daylight throughout the night!
To my wife, my soul mate, my love, my life. I wish for your happiness, good health and a good life. 
Plan a day filled with surprises. If you have children get a baby sitter. Romance isn't just for Valentine's Day and Anniversaries, Romance is Just Because….
You stole my heart the first time I saw you. I know it's in good hands. I wish to spend the rest of my life having fun, vacationing around the world and just being with you. You bring joy and love to my life. Thank you so much. I wish every day of your life to be showered with happiness and joy. I love you with all my heart.
The beauty of the sunrise on the water and the sunset on the horizon cannot match the beauty and depth of the love I feel for you. You take my breath away when you walk into the room. I love you more than words I can say.
Today is a very special day because I'm spending it with you. Thank you. I am sending all my love your way! I love you! I love you!! I love you!!!!
They say you only fall in love once, but that can't be true… Every time I look at you, I fall in love all over again.
You make my heart sing. You are the music in my heart and the song of my soul. You take my breath away…today and every day.
Life is still a mystery to me. How did I get so lucky and find an amazing person like you!
Birthday Wishes
Happy birthday to the world's best kid (husband, wife, friend, partner) Celebrate, Have Fun and Enjoy the cash.
Family Wishes
Mom and Dad,
Your love and wisdom have always helped guide me. I want you to know how much you are loved and that you mean the world to me. Thank you for everything you have done for me. I am the luckiest kid in the world. I love you to the moon and back.
Growing up with you was best. Thanks for always being there. You make the world a more beautiful place. You are my inspiration. No matter how far the distance between our homes, the distance between our hearts will never change. May the joy and love you give away each day, return to you tenfold.
Graduation Wishes
Congratulations and best wishes for a successful future. Not once did I ever doubt you'd make it. May your degree unlock many doors to well deserved success. I wish you a wonderful, happy life filled with love and kindness
Congratulations!
Graduation is a time to celebrate your achievements, prepare for a future of opportunities and embrace a world of infinite possibilities. May God bless you on your graduation day. May all your dreams come true. Congrats.
Thank You
Thank you for all your help. I owe you big time. I'll never forget your kindness. I am so grateful for all you do. You were there for me when I needed you the most! Know that you are always in my heart and in my prayers every night.
Love Always,
Retirement Wishes
Now is the time to enjoy all the things you never had time to do when you worked. Enjoy your retirement. You've earned it. Goodbye time clock! Hello world! We'll miss you! May you enjoy a long and wonderful blessed life.
House Warming Blessing
May you and your family enjoy years of happy times in your new home. There's no place like home! Congratulations. Wishing you a lifetime of joy and happiness.