---
Choose a time and date to receive your wish. Burning the WISH Candle and receiving your wish is a momentous time that is filled with excitement and anticipation.
The burn time for the WISH Candle is usually about 12 to 14 hours.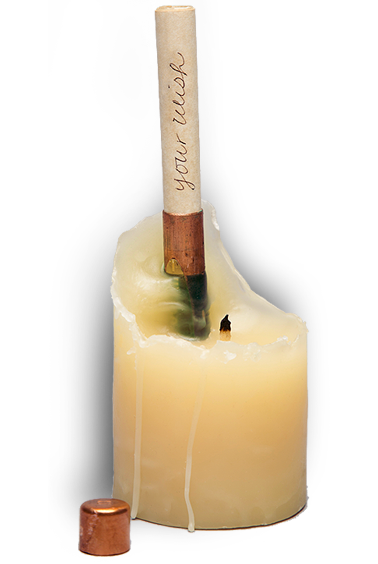 ---
Plan a special wish celebration with all your favorite foods, drinks, entertainment and great music.
Each candle burns a little differently because it is filtered differently by the beekeepers and bees gather pollen and nectar from different regions from millions of flowers. 
Be Creative and Have Lots of Fun.
The WISH Candle will turn this special day into a day filled with memories that last a lifetime.
Receive your Heartfelt Wish.
"Are you ready to embark on a magical journey to do everything you can possibly do to make your wish come true?"
You must consciously receive your wish into your heart and soul, and your daily life. Receiving a wish into your life is like being the caretaker of a beautiful garden – a wish is like a garden – it requires commitment, imagination, inspiration, passion, love and action.
Receiving your wish is your commitment to embark on a magical journey and do everything your can possibly to make your wish come true.
Spend the day pondering on your life and imagining stories of your wish being true – enjoy your favorite foods and drinks, gather pictures and inspiring quotes – make a vision board – write a list of action steps that you can take immediately.
Imagine your wish is true – Dream about it – Celebrate it – Be inspired and enjoy every minute of your wishful life.
"Receiving your wish into your life gives it life – it sparks new ideas, people, places and opportunities into your life that will turn your wish into a reality."
Receive a Wish or handwritten note
Receiving a wish or handwritten note sealed inside the WISH Candle is a heartfelt gift that last forever.
Not only is your wish a treasured gift to receive, the whole day and evening of celebration is a treasured gift of time that comes to life each time the experience is shared or someone thinks about it.
Excitement and anticipation grows throughout the day as the WISH Candle burns. When the WISH Capsule is revealed and the cap is removed your wish is received.
"Together or apart, the handwritten words inside WISH Candle will connect you 'heart to heart".
The WISH Candle may be used in so many different ways:
Family Memories
Graduations
Births & Birthdays
Retirements
Weddings
Anniversaries
Military families
Terminal illnesses or Alzheimer's
Last Wishes
Milestone occasions of a lifetime
Just Because you want to say I love you